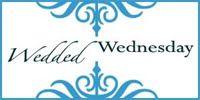 It's been a while since I've done a wedded wednesday post trying to get back in the habit cause I really miss the marriage reflection that comes with wedded wednesday posts.
Anyway today I'd like to discuss self confidence. See before I met Mr. A I was severely lacking in this department. Mr. A brought out the very best in me and continues to do so. Not a day goes by that he doesn't build me up. He tells me I'm beautiful every morning before we leave for work. I love that my husband builds my confidence in myself and gives me the strength to go out and face the world.
Let's face it the world can be pretty tough. We're constantly bombarded with images of airbrushed celebrities and told we're supposed to look like this on a daily basis. Umm sorry world I have flaws.
I like to think I do the same sort of confidence building for my husband I tell him he's awesome at what he does, I always mention how good he looks when he's been hitting the gym extra hard, I compliment on how well he handles our finances, and of course tell him what a hottie he is.. sigh those deep blue eyes get me everytime:)
I hope we never lose this special part of our marriage and that we're always each other's #1 supporters. It means the world to me to know that even if the world thinks nothing of me there is someone who thinks I'm his perfect 10!
Later Alligators....
Mrs. A